How MLG Can Help You:
Research shows that 70% of change efforts fail. (McKinsey and Company) Some of the most frequently cited reasons are:
Failure to articulate and communicate a powerful vision for the change;
Employee resistance to, or cynicism about, change;
Lack of shared ownership and leadership around the change at all levels; and
Inadequate preparation or training of employees.
Engaged employees are key to the success of any successful change, and ultimately, to generating desired triple bottom-line results (growth, social capital, and the sustainability).  MLG partners with organizations, teams and individuals to:
 Assess their change vision and change capacity;
Examine resistance to change;
Develop a comprehensive change management plan focused on an organization's human resources;
Implement evidence-based change practices; and
Design communications that advance desired change initiatives and results.
MLG's approach focuses on culture, structure, and the human dimensions of change.  Using the lens of Diversity & Inclusion and Adaptive Leadership, we focus on helping individuals and teams develop and deepen their leadership and resilience capacity, increasing the opportunity for successful change.
In addition, MLG's founder is a HeartMath® Certified Trainer, and we utilize the HeartMath Institute's* Resilience Advantage Program™, to build employee resilience capacity and maximize personal performance in the midst of change.
Relevant Data:
The many possible human responses to change: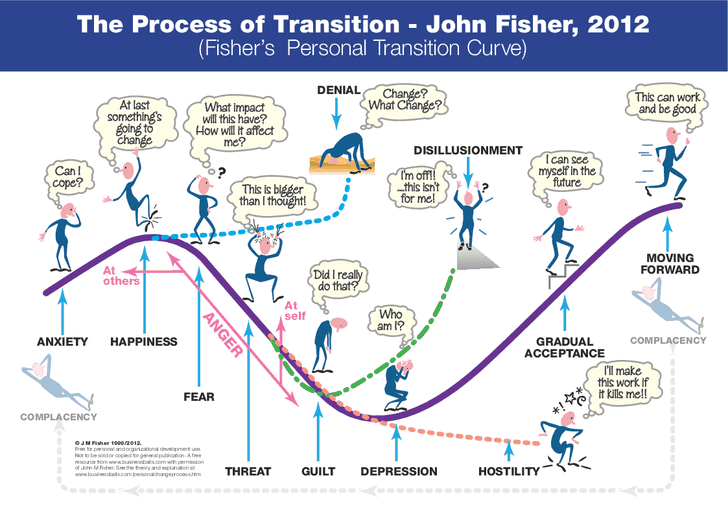 Sample Projects:
Advised and provided guidance on multi-state, multi-facility regional healthcare system executive compensation strategy, communication, and implementation plan.
Developed and presented change management strategy and implementation plan to healthcare system senior leadership and board.
Designed relationship and conflict management approach (as part of a change management strategy & plan).
Led university EEO/Affirmative Action legal assessment and implemented change action plan to ensure legal compliance and realign with university values and D&I vision.
Testimonial:
I was able to develop a much more balanced approach to my work, integrating more effectively the important interpersonal and relationship elements of successful change project leadership along with the tactical and technical fundamentals. Barbara's personal style, along with her coaching method, promoted a very open and collaborative approach to both sharing information and achieving consensus, which were essential to effective decision-making in large, complex organizations. Attention to these skills and business processes has, for example, allowed [company] to accomplish integration of executive compensation and benefit programs more quickly and to a much greater extent than would have ever been possible without her guidance.

-VP, Executive Compensation, 60,000+ employee health care system operating in 11 states
* HeartMath is a registered trademark of Quantum Intech, Inc. For all HeartMath trademarks go to www.heartmath.com/trademarks.