How MLG Can Help You:
Research demonstrates that forced 1-day diversity, equity and inclusion (DEI) education and training often generate employee resistance and "more animosity toward other groups afterward," according to the 2016 research published in the Harvard Business Review. However, companies that make DEI a central part of mission are generating both measurably-improved financial results and creating cultures in which employees are engaged, retained, and feel respected for their diverse perspectives.
MLG possesses extensive DEI experience across multiple industries. We've helped clients effectively implement desired culture change, respond to a culture crisis, strategically address their inability to attract and retain  diverse talent, and implement forward-looking talent development strategies to increase hiring and promotion of women and under-represented minorities. Using a systems-approach, MLG partners with executive teams, human resources, and management to design and implement tailored DEI programs that are integrally-linked to:
A compelling vision and values, plus real management accountability and data analytics for delivering on the vision and values;
The company's triple-bottom line strategies (growth, social capital and sustainability);
A long-term portfolio of initiatives and actions, customized to functional, regional and/or local contexts to maximize buy-in; and
Agreeing upon the investments required to "hard- and soft-wire" and sustain the programs and a diverse, equitable and inclusive culture.
In addition, we bring to bear our expertise in Adaptive Leadership and Change & Transformation in creating holistic, sustainable DEI initiatives.
Relevant Data:
There's growing evidence that DEI can be a differentiator for companies and organizations, not only in terms of growth, but also in attracting and retaining talent, employee satisfaction, improved customer orientation and decision-making.
DEI is key to attracting Millennials and to their loyalty and happiness.
Companies most aligned with Millennials in terms of purpose, culture, and professional development are most likely to attract and retain them, increasing potential for better bottom-line results. (Deloitte)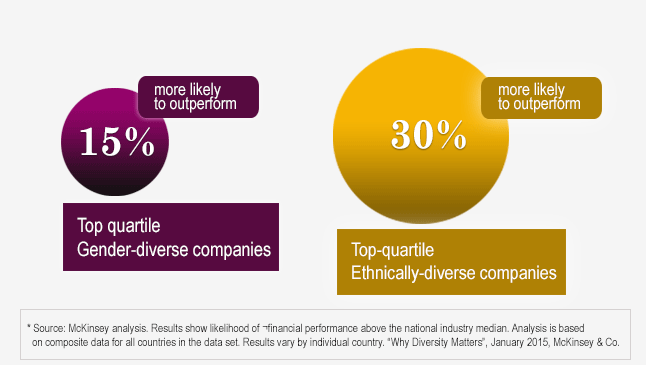 Sample Projects:
Developed and presented executive leadership briefing on vision and business case for diversity within healthcare.
Assessed university EEO and affirmative action practices, processes and procedures and realigned responsible function to enable it to simultaneously comply with legal requirements and advance D&I.
Developed integrated 360-performance management and staff development approach (U.S. and expatriate staff) for international nonprofit.
Designed and implemented approach to increase diversity and equity in candidate pools and in hiring and promotion decisions for a domestic and an international nonprofit.
Designed and implemented DEI education series for global human resources staff.
Delivered board briefings on gender and DEI (U.S. and international).
Devoloped and presented DEI and disparities in healthcare analysis and business case to executive leadership team of national healthcare organization.
Testimonials:
Through Barbara's diversity and leadership work with my former organization, I watched and learned from Barbara the importance of treating ALL staff with dignity and respect. She was a role model for the ages and a change agent who brought to life a culture of commitment and support for all staff, while dramatically improving skill sets and performance. Barbara is the consummate professional whose coaching and mentoring have had a positive impact on my career (I received two promotions while at my global organization) and life decisions.

-CFO, international nongovernmental human rights law organization
It is with great pleasure that I have this opportunity to recommend Barbara to help your organization as she significantly helped ours….  I had the opportunity to witness her keen sense of what is necessary for success in a high pace ever-changing academic environment such as our University.  Her understanding of management encompasses a clear vision of procedural development, operations management, and customer relations.  All had been demonstrated in her ability to create and recommend a much-improved investigation and mediation process.  I was continuously impressed by her compassion, honesty and strength through her work with the faculty, staff and student body.  Regardless of the heavy workload, she took the staff's development very seriously through her efforts to empower them to make constructive changes in their performance.  Showed a strong dedication to our goals with many nights and weekends supporting the University, Barbara was truly a part of our team.  She is a tremendously committed hard working professional.

The feedback from those that worked with her was the highest of praise.  She speaks persuasively and convincingly while remaining responsive to employees at all levels regardless of the circumstances.  Her written communication was exceptional and extremely methodical.  She worked closely with our legal team and advised management on EEO and diversity matters; stayed informed and provided guidance without being intrusive!

I hope that the above insight allows you to see clearly the extraordinary asset Barbara was to our University's Equality and Diversity program.

-Executive Director of Business and Finance, private university with 24,000+ students